Premium Composts

from Triple-s

Our premium composts are manufactured on site using the static pile and aerated windrow composting methods. The well-composted products are manufactured to U.S. Composting Council's guidelines and are stable in nature. Our carbon-to-nitrogen ratio is typically below 20 to 1, has a soluble salt content that is typically less than 2.5 dS/m, an organic matter content that ranges 40 percent to 60 percent of dry weight, and a particle size minimum of 98 percent passing through a 1-inch sieve.
Bio Compost
Bio Compost is a versatile, high-performance blend that can be used as a top dressing, soil amendment or soil improvement, erosion and sediment control, nursery potting mixture, and more. Bio Compost is a premium compost blend ideal for wide-ranging applications including flowerbeds and gardens, athletic fields, golf courses, new sod installations, bioswales, commercial properties, and master planned developments.
Manure Compost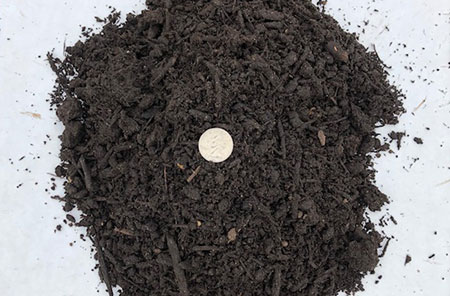 Manure Compost is a premium blend composted with a combination of animal manures, plant and food waste, and our clean, green waste acting as the carbon source. The resulting compost is a nutrient-rich, all-purpose blend with suitability across many commercial or residential applications.
Tea Compost
Tea Compost is a premium product composted from used tea leaves, producing a nitrogen-rich component to balance the carbon-rich materials in the compost. The result is a rich, dense fertilizer that promotes earthworm casting production and fertilization, resulting in healthier, lusher projects.
TX-DOT Compost
TX-DOT Compost is an aged organic humus, a byproduct from the organic recycling process that is ideal for erosion control and use along roadways. Our TX-DOT Compost meets quality and performance standards for erosion control set by both the U.S. Composting Council and the Department of Transportation.